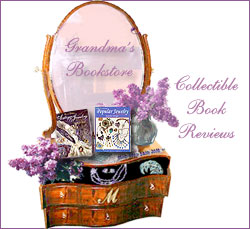 This was one of my first jewelry books that I bought. It was and continues to be a good investment. This book is great for a beginner who wants a nice overview about vintage costume jewelry. The book discusses the major manufacturers, care and storage of your jewelry, how to spot fakes, and has a nice section of vintage ads showing the jewelry as it would have been when it was brand new. The pictures are nice and clear making this book fun to just flip through.
Signed Beauties of Costume Jewelry is a wonderful book. The division of the designers is not your standard alphabetical order. The designers are listed by design area, and gender. Costume jewelry was not just a field dominated by men, and I think celebrating women's achievements in it are great! The book also deals with the difference between jewelry designer and manufacturer, a common issue. The photographs are beautifully done and show a wide range of each designers work, so it gives a good overview to the collector or dealer.
Finally, a book the celebrates the un-named masterpieces of costume jewelry. Many exquisite designs including some featured on this website, are unsigned. For some, no name means no value. This book goes to prove that statement wrong. Many wonderful and unique pieces are featured and no signature on any of them. This book celebrates jewelry for its wonderful colors and designs and artistic qualities. The beginning of the book gives a nice introduction about the history of rhinestones and costume jewelry, along with a time line of important events and styles in jewelry. If you love jewlery, simply because it is pretty this book is for you. If you don't and want all your designs signed, this book may change your mind!
Miriam Haskell knew how to make jewelry. These impressive designs fetch high prices, but the intricate craftsmanship and care make them worth it. The designs are so creative and beautiful. This book shows the evolution of the designs with lots of illustrations. Great for jewelry fans as well as crafters, it's a great source for design ideas. A truly yummy book and well worth the investment!
This book gives a decent overview of jewelry and styles. The pictuers are nice and show a wide range of maunfacturers. It's not as organized as it should be, but it does contain some good information. It also covers a bigger time period making it more useful.
This book is known on jewelry email lists as the Fred Rez book. The author researched many jewelry companies including some lesser known ones. The information about each company is complete as the author can make it. In some cases there is little information to be found, but seeing the mark on your jewlery in a book can increase its value. The one thing that this book does wrong is on the care and cleaning of costume jewelry. Never wet your rhinestones! It wears the foil away and makes them a mess-no matter what the book says. Ignore that part and this book is terrific!
Harrice Simmonds Miller is an excellent author. Her book is divided up by decades. Each chapter discuss the trends in fashion that inspired the jewelry that was worn with them. Absolutely fascinating if you are into the history of jewelry and fashion. A truly educating and entertaining read! This book's compact, paperback format makes it great for carrying around as a reference.
Christmas jewelry is a more specialized category of collecting, but since I deal in holiday jewelry I thought it would be fit to offer this book. It goes into detail about various holiday pins, mostly Christmas trees, but other Christmas themed pins as well. It covers the gamut from older trees to the modern Eisenberg Ice's being made today. Perfect for the collector or someone who is just beginning to discover the wonderful world of Christmas jewelry!
This book is part of series written by Rosanne Ettinger that covers jewelry from the 1840s to the 1980s. The series is a must have for any serious jewelry collector. This book focuses on the more ignored periods of costume jewelry, the 1960s, 70s, and 80s. These were periods with lots of costume jewelry. The styles are discussed with lots of full color images illustrating examples. Great for rounding out your reference collection!
This is the first of Rosanne Ettinger's series of books. This book is amazing. The color photography is terrific. The book has nice balance of information and images. It goes into detail about each period and what styles and materials were popular. A wonderful source of ideas for jewelry designers!
This book is more of coffee table jewelry book. It has wonderful pictures showing a wide variety of costume jewelry designs. Not as much information, but if you want to see the really good stuff check this out. It's much cheaper than the real thing!
This book is one of the most educational of all the jewelry books. It covers jewelry, both newer and older, costume and the real deal. There is information about makers marks, European metal hallmarks and more. Truly an encyclopedia of jewelry information!
This is another jewelry picture book. Lovely pictures, lovely jewelry. Not too much information, but that not what this book is for. I call this the coffee table jewelry book.
Jill Gallina's "Christmas Pins Past and Present" is a spectacular book. She focus on older designer and new up and coming ones who we can buy from today. The pictures are wonderful. If you collect Christmas jewelry this is a must have. I especially like this book as the author(who is a very lovely person) bought some Christmas trees from me to be featured in the book). Grandma's Top Drawer is cited in a back as a source! To start your holiday collection, do check out the Holiday "drawer"!
Judith Miller's "Costume Jewelry" is one of the best new references I have seen. It combine stunning photography of a variety of pieces starting with ancient jewelry in museums, through modern day designers. There is the perfect balance of images and text. This book is published by Dorling Kindersly, a British publishing house, that consistently publishes excellent reference books on all subjects for all ages. Another must have! I highly recommend this!
This book is a tremendous resource. Ginger Moro's European Costume Jewelry is an extensive volume covering jewelry from a wide range of European countries and periods. It is a wonderful resource, carefully researched with lots of images for examples. This is an investment book and well worth the money.
To order any item(s) please email me at:

liquidsilver9@worldnet.att.net

Please be sure to include the item number(s) of the items you would like to purchase.
I will contact you with availability and shipping information.
If you have any questions feel free to email me.